Basic Info
Name:
Jin, Kaito
•
Nickname/Alias:
---
Age:
17 3/4 Birthdate = September 6th
Gender:
Male
Important Family Members:
Father Deceased
Personality:
Kaito is a very quiet person, he only talks when he needs to, and doesn't say anything that is useless. He is very smart, passing 96% of his tests, because he was pushed to his best at home so he always studies very hard. It takes a lot to get him mad, motivated, or excited. He sort of likes little kids, because the older kids aren't mature or are mean to everyone else. Kaito is very mature, he does not like immature little brats who are spoiled and get whatever they desire, and does not like being talked down to, and hates people who do not know their own strength and think that they are king of the world. He does not like to fight but will when he has to, and will always put in his best effort to do well. He always sits cross legged, and always has his guard up, usually not missing anything, meaning that he is always concentrated. He is not depressed, infact, Kaito is a very nice person, often helping other people instead of getting into useless arguements that could escalate to fights, and usually accepts no rewards. He isn't rich, but he isn't poor, he gets free food from some people because he is so nice and helps everyone in the village when the time of duty is there. He doesn't like team missions, but he will not argue about them, and will work his best to get somewhat along with his teammates. Kaito tends to take responsibility and usually is the leader in his teams missions. Kaito exceeds as the second in command for the Seven Swordsmen of the Mist.
General Appearance
Kaito is a darker skinned colored caucasian male, who has a slim, but very built body. Hit head is average size, and his eyes are dark blue, with no bags or any signs of drowsiness or sleep deprivation. His neck has alot of muscle in it, due to working on the fishing boats, and using his back to lift up the heavy nets and bags. His back has a very tough build, and his very muscular, almost popping up whenever he flexes. His arms are long, about 87cm long (more then average arm length) and are also muscular, from lifting dumbells and the fishnets; he also worked out quite a bit when he was in the academy. His chest isn't solid, but it isn't soft, it is that of a flyweight boxer. His legs are long, about a meter and a 10cm, and are way mroe muscular then the rest of his body because he lifts with his legs, he runs alot, and he trains alot, with a giant sword. So he needs good balance, so he trained up his legs. His feet are exactly a foot long, and not as wide. (Side note: His hands are that of a 17 year old, so normal pretty much.) He has finger toes, so his toes are a little bit longer my like 1 cm then normal.
Basic looks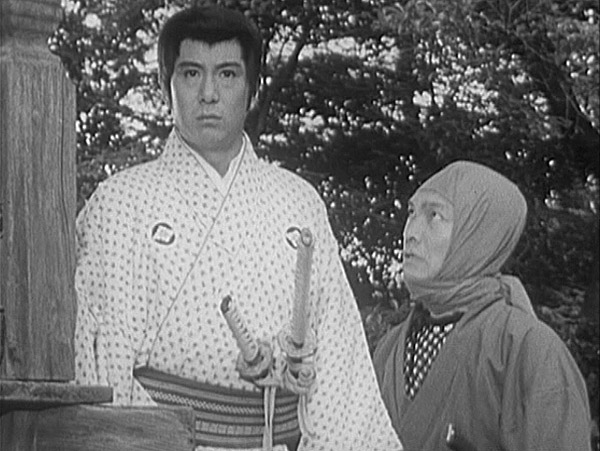 Clothing:
Missions/On Call:
Kaito's attire consists of a dark green 1'' thick long sleeved tee shirt that goes down to his steel plated gloves, a dark blue Hidden Mist village flak jacket with a plated inside, and an insulated outside for when it is cold, His villages silver plated head band protector tied around his right arm with a navy blue strap, His pants are black with 2 pockets on the front and on the back, the pants end at his ankles. On the back of his left thigh, he has a Weapon pouch big enough to hold Kunais and some shrunken. He wears blue sandals with black tapped feet so they stay tight, and the sandals end just entering the hole from the pants. On his back at a 130 degrees angle, is his sword that is mounted on his upper back with a strap that goes across his over clothing.
Additional Outfits:
When Kaito is casualy walking around his village, he always wears the same unclothed uniform. This consits of a tee shirt that is painted moss green that ends at his elbows, a baggy version of ninja pants that are painted jet black and end at his ankles where his ninja, two pronged sandals appear. He does however always carry his sword that is still mounted on his back by strap that goes around his tee shirt.
•
Height:
5' 11'' (5 feet 11 inches)
•
Weight:
140 pounds Naked. 149.573 Pounds clothed.
preferred wardrobe:
Long sleeves, gloves, and some dark pants. Easy to sneak with, light enough to move around with, and casual to look casual...
Extra Features:
None.
Bloodline Information
Misuto wa fisshāzu (The Mist Fishers, ミストはフィッシャーズ)
•
Description:
Are able to breath underwater, and above water because of gills, located on underside of the jaw.
•
Physical Traits
Gills.
•
Ability Overview
None.
Rank and Skill Information
Village:
Kirigakure
•
Rank:
A (Strong A ranked ninja, Stronger than normal Jounins.)
•
Letter Rank
A
•
Group affiliation
Seven Swordsmen Of the mist.
•
Specialties:
-
Main:
Kenjutsu
-
Sub:
Ninjutsu
-
Combination
(Must have admin permission)
•
Advanced/Secondary Skills:
(proficiencies, mastery….)
Elemental & Jutsu Information
Elemental Affinity
•
Primary Element
Water.
•
Secondary Element
Lightning.
•
Advanced Element
None At the moment.
•
Combination
None Permenant.
Jutsu
(If they All don't fit, put in another post)
Suiton (Water)
Spoiler:
Raiton
Spoiler:
Kenjutsu
Spoiler:
History/Rp Sample
Rp Sample:
As Kato was walking through the forest, a slight gust came over and blew his mission scroll away. As Kato watched it fly away, he panicked and started to run after it. Although he came quite close, it just kept getting farther away every time. Thats when he thought of something, Ill use my water manipulation to encase it and soak it until its too heavy to float around So Kato did some hand signs and took the water out of his water bottle and encased the scroll. The scroll was finally unable to float away and landed on a cliff about 50 meters below him.
He thought that it would be easy to just climb down but that wouldn't work because the cliff that the scroll was on was at a 100 degrees angle and if he missed he would surely fall to his death. He pondered for a very long time, and then it struck him, about 2 months ago, Kato saw 2 ninjas practicing running up trees. Kato did try it the night after he saw those guys but it deemed impossible. However, this time Kato had no choice, he was short on money and unless he completed this mission he would be unable to pay the rent for his apartment or for food. So Kato started to ponder about how he would go about saving the scroll without killing him self going down, and make it back to the top.
History:
Birth-Academy Ark:
From a very young age Kaito was enrolled into the mist academy student school, he was neglected to training all day and was showed no respect of love from either of his parents, not even from the teachers or any of the students. Kaito was treated this way because his birth was actually a genetic defect because he had guills that allowed him to breath under water. Noone knew why he was like this, but ever since then Kaito was never treated normally and always picked on. When the sun was down and training was over, he would return home and was usually beaten by his father or his mother from not doing well enough to there standards for a well off mist family, he would then eat the little rice that he had recieved from them, and then was sentenced the rest of the night to study. He was only given 2 hours of sleep, and in the morning was woken up at a very early time for more training then, school where he would, again get beat up and picked on for being "Fish-boy". When the deadly disease came over their village, it had killed all of the academy people, and was targetting Kaito's parents next. No matter what they had done to the boy, no matter how many times they beat him, he had still loved them both dearly.
"O-over there...In the closet...Bring that weapon to me..." His father said as Kaito knew he was going to die soon.
Kaito picked up his mournful body, and raced over to the closet. He smashed it open, and a large encased box fell down with a thundering boom. The box was fairly heavy, and Kaito had no idea what was in it, but he had no time to ask. He pushed and dragged the large wooden box over to his fathers death bed. "O-open it -cough-" his dad commanded him. Kaito undid the leather bindings and the wooden crate had popped open."That sword...I-it is c-alled the The sword of Five natures. I-i could never use it, however, this is wh-hat we have been training you f-for." His father said dieng."T-take the sword, And M-master the f-ive abilit---es." His father said. finally with his last breath, he told Kaito"It's name, Is Go." And his father died. From that day on, Kaito planned to master the abilities of Go, The sword of 5 natures, as well as study hard and train his chakra to oneday become the most powerful man that walked the ninja world, and be called "The Fish Boy With 5 Blades."
Genin Ark:
When Kaito graduated from academy school, he was at the age of 11. He still went home every day to study and train. He would get home and then practice with the sword as well as studying and pracising with his water chakra. He was no longer getting beat up and had more then 2 hours of sleep that he previously received, and instead filled those times with missions of helping out the elderly and doing cheap missions for money to buy himself food. He gradually received more and more attention from the higher ups, and eventually became loved and liked wherever he went. He forgot about the bad times, that was before, Kaito actually thanked his parents every night for the strength he had received. It was at the age of 13, that Kaito wanted to become a chuunin, and it was that time of year already. So with that, explaining to the village peoples that he would eventually come back when he was ordained chuunin, and told them that he could be a great asset being an uchiha member and such. With all the good byes that he had received, he left for Konohagakure in search of the title Chuunin.
Chuunin Ark:
When Kaito reached the leaf village, he was brought to a run down ramen station that was called ichiraku ramen. It was old styled and tasted delicious. When he was used to the village and had a run down appartment, he decided to lurk around the village and ask about the chuunin exams. He was told that they were to happen in 5 days. Using those 5 days, he trained all day and all night mostly on aquiring the power to use the whole 5 powers of the sword, so far he had only reached the 3rd blade, which meant he had 2 more to go, but he also practiced his other ninjutsu and kenjutsu as well, he studied and made sure that everything was in great condition. He never was late for anything so he showed up about 1 hours early to the chuunin written exam selection. As the time passed, he was told that this exam was going to take a long time, but he was sure that he would be okay. The exam started on que, and as expected from Katio he finished in 43 minutes and 19 seconds, being the first one done, with 4 hours left over. He left the exam hall and walked outside, where he was ambushed by 2 ronin leaf ninjas. They asked him for money, and he just kept walking. "I don't have any money on me, I'm sorry..." Kaito said, it was true he did have no money. The older ninja then went for a kick to the stomach that was then blocked by Kaito's left hand very easily. "Why you!" The ninjas said as they started a barage of attacks on Kaito. However, they could not keep up to his skill, and eventually where to tired to go on, and just passed out on the side walk.
It was the next day, and he was told that he was going to participate in the second last forest of death exam. The rules were to basically survive. The older rules, as Kaito read, where to get 2 different scrolls, but then it said that 3 ninja were recklessly attacked by one of the sanin ninja named Orochimaru, which in turn meant that they had to stop that activity. The rules for this one were to survive 4 days in the cruelest of the cruel climates, and activities. You could kill anyone in the chuunin exams. That, made Kaito sick. He entered 3rd, just walking, and decided to spend these 4 days just sleeping, after all, he had faced much more when he was younger and had to fend for himself. If only it was that easy though. On his second day, 2 ninja's approached him, the same ones that had passed out.
"Hey, Hey, look what we have here..." The younger ninja said as they both dashed at the drowsy Kaito. One of them threw a kunai, which was easily dodged by a sway of the head from Kaito, and a kick from the second ninja going for the same place, the stomach. Kaito didn't move out of the way of the kick, instead he let it connect 100% power. He just looked at the older ninja then said:
"You are REALLY, starting to piss me off..." Kaito said, grabbing his leg and using his muscular hands to shatter his bone while using his sword to scare off the other ninja. The older ninja shreaked in pain as Kaito shattered his ankle, and the younger ninja took off scared with what he has witnessed at this scene. With the older ninja on the ground, Kaito thought about what his father did to him, so he knew it wasn't right. He just absolutly hated it when people looked down on him. So, being the nice ninja that he was, Kaito picked up the ninja, and took care for him. They soon dropped out of the competition, and Kaito survived the harshness of the second exam.
The third exam was a tournament, Kaito wasn't exaclty thrilled about this, he was sure that he was the strongest one there, but he decided to get it over and done with and asked to go first. as he did this, the biggest and strongest looking of the bunch stepped out, and challenged Kaito. Kaito took his challange and was sentenced to fight in 5 minutes.
As he walked out to the arena, the stages where filled with crowds of hollering ninjas, and at the top of the crowd, was 3 legendary leaders. Kaito thought that he had to impress them, so in his first fight, he decided not to hold back. As the both contestants stepped out, into the center they were told that there were no rules, and that, killing was aloud. Hearing this rule, he again, felt sick that anyone should die just for a lousy rank in a lousy exam.
"Begin!" The counceller annouced, and the giant ninja dashed off against him like a bull to a red flag.
Kaito dodged the first punch, and blocked the second one with his hand. He then used his shinshun jutsu to appear behind the big and brawny man, and broke both of his arms. He proceeded by almost snapping his leg when the crying ninja said "I give up!!!!" For he no longer could take the pain. Kaito was then told that he no longer needed to fight, as he would just end most ninja carreers for the rest of the ninja.
Kaito, had passed the chuunin exams. He then left half an hour after being announced chuunin, and headed home to his country. As he was leaving the gates of Konohagakure, the Hokage himself came up to Kaito and asked him to stay a little longer. About 2 years longer. Kaito thought long and hard about it and then asked: "What for? We will activate the second element as well as the " The Hokage replied with, "Jounin Training..."
This just brought a whole new level up to Kaito, without thinking any longer he said "I'll do it!"
Jounin Ark:
Kaito was all suited up for training with the Hokage, it was after all two years worth of amazing training. Kaito didn't record all of it down, instead he only recorded the just of it. Over the course of the two training years, he mastered his way of the 5 powered sword, lightning chakra, water chakra, until he was able to hold off against 2v1 jounins without even using his sword and began to lead team missions. When his long and hard two years were over, he walked to the Hokage office, proudly knowing where everything was, and was just intime for the graduation ceremony for jounins.
"These fine and many young ninjas, graduated from the hard teachers at the academy school, survived their way through the deadly chuunin exams, and fought for their rank at the tournaments that where held. These are ninja that have been trained directly from their students except for one fine ninja, whose name is: Kaito Jin!" the Hokage announced with excitement.
Kaito then proudly walked his way to the podeum, and everyone clapped. But that wasn't the thing that caught his eye, the one special thing that caught his eye was that there was a mist ninja in the room to the back. He could tell that this man was a mist because the way they had a moist feeling around them. Kaito approached him and he quickly introduced himself.
Mist Swordsmen Ninja Ark:
"Hello, My name is Naet, and I run the Seven Mist Swordsmen, and am currently looking for talented and strong Mist ninja to join my cult of the seven strongest ninjas in the mist, but not only that, The seven strongest Swordsmen in the entire Ninja world, I am here to recruit you...Will you join me? Not only will you be a great addition to my team, but we will work to improve your skills in everything, including your blade of 5 powers..." Naet said to Kaito.
"Yes, I will proudly join you!" Kaito said, walking off with the other strong swordsmen heading back to the mist country where he would once again be reunited with everyone, during his long adventures Kaito accomplished three things: Got to Jounin rank, Unlocked the rest of the blades for the sword, and fufilled his fathers promise about mastering it, and improved his fightning abilities. Kaito was returning as a real ninja, possibly one of the strongest ninja that resided in the hidden mist village.
As he was entering the mist village, everyone there, proudly said "CONGRATULATIONS!!!" to Kaito and Kaito knew that he was at home. They fed him what ever they want for this night, and gave him what ever he needed, but he knew that he was going to have to tell them that he was, after all going to leave the village and travel with Naet to gather the rest of the swordsmen. So, he decided to go and talk to the mizukage directly and tell him that he was going to leave.
"Mizukage-sama, I'm...I'm going to-" "I know already, Naet has already spoken to me about this...Please do not do anything rash and stay alive, for you will always be remembered as the genin who left this village for strength!" The Mizukage said as she interrupted Kaito.
With that, early in the morning, Naet and Kaito met at the border of the Mist village, and set off. On their way, Kaito could only think of something and laugh, and this was the feedback he would get from the message that he left.
"Whats so funny?" Naet asked Kaito.
"Oh, nothing..." Kaito said chuckling picturing the letter he left at the gates that read: "Don't let anyone else get stronger then me, and when the time comes, I will return as a hero."
Name:Go, The blade of 5 natures
Rank:C
Owner:Kaito Jin
Appearance:
First Form: Ichi
Spoiler:
Second form: Nee
Spoiler:
Third Form: Sann
Spoiler:
Fourth Form: Chie
Spoiler:
fifth Form: Go
Spoiler:
Length: I will number them off 1-5.
1. 2 meters 45 cm
2. 30 centimeters
3. 3 meters
4. 60 centimeters X2
5. 1 meter 3 centimeters.
Width:
1. 8''
2. 2'' at hilt. 1/4 '' at tip
3. 1 1/2''
4. 3'' X2
5. 4'' at hilt, 1'' at tip
Material:
All are made out of High carbon steel.
Weight:
1. 130 lbs
2. 1 1/2 lbs
3. 20 lbs
4. 10 lbs X2
5. 50 lbs
Abilities:
1. A normal big sword that is always wrapped in a beat up dirty white gauze that is usually mounted onto Kaito's back.
2. A Kunai that is a little bigger then most, and used for throwing and then transforming into another sword. Kaito can also use this for combo attacks.
3. A gaint long sword, that has incredibly light weight and when infused with water will be able to cut through any kind of fire attack that is below Kaito's rank.
4. Two Average sized short swords, that when used Lightning chakra infuses the user to they are extremely fast, and can run/jump faster and higher.
5. The last sword of the 5 powers, is usually the strongest one and the one that Kaito does not use at all. It's abilities are first to drench the opponent in water by swinging off the water cover that is on it. It will then at the same time it drenches the opponent send an enormous amount of electric shock into the water into the opponent doing enormous damage to the opponent. This blade uses alot of chakra from Kaito, and cannot be used every battle. (once every 3 topics of fighting.) When Kaito uses this form of the 5, there is a shocking and dangerous aura that makes Kaito loose control of himself after using it. (after 5 posts of fighting with this sword, Kaito cannot move for 5 posts either way.)
Info:
This blade had found its way into the Jin family, when Kaito's last 5 grandfathers have passed it on. (Kaito's father was the last to have it.) Whoever uses this Blade will have great strength, however there are downsides to the blade. Kaito can only have one of the blades at a time, as they are not simply creating a new one, it is made of the same blade, and after every form after the original one (1st form) there is a certain wait time until Kaito can use the rest of them:
1st Form: No wait time.
2nd Form: No wait time.
3rd Form: 2 posts wait until switching.
4th Form: 4 post wait until switching.
5th Form: 0 posts wait until switching as it reverts back to the first form right away, as kaito cannot move for 5 posts and cannot use the sword for 5 RP topics.
All are either way.