Basic Info
Name:
Kaze Uchiha
•
Nickname/Alias:
The Cloaked Schemer
Age:
18
Gender:
Male
Important Family Members:
Mayuri Uchiha
Personality:
Kaze has a icy-calm personality, never letting what others say affect his beliefs and pride. He prides himself on being a member of the Uchiha Clan. He believes that powerful young ninja, like himself, should always be treated with respect. He sometimes talks to himself or wild animals when bored or has nothing else to do. Though friendship is the key to obtain trust and respect from him. He possesses incredible self-control of his emotions. Unlike the other members, he conducts his tasks in a veil of secrecy, suggesting a darker sort of personality. Kaze apparently also holds a fondness for literature and reading, and the fact he is usually seen reading a book. Kaze to some appears to be emotionally distant and anti-social, but this is not completely true. He has an undying sense of duty to the organization, which is certainly not untrue as he is the most competent of the basement members and goes to almost any length to ensure the success of his missions. At times, he can also be humorous and jest with other members when the moment shows itself. He usually doesn't fight his opponents outright at the start of battle, but uses schemes and illusions to bring them down. He tends to only be surprised when opponents proved more powerful or skilled than he had expected, and even complimenting his opponents at times on their abilities. Kaze is very intelligent, exceedingly sharp and observant to any situation at hand, as he was rarely surprised or caught off guard. When in battle, he tends to show mercy and will only kill if necessary.
General Appearance
Basic looks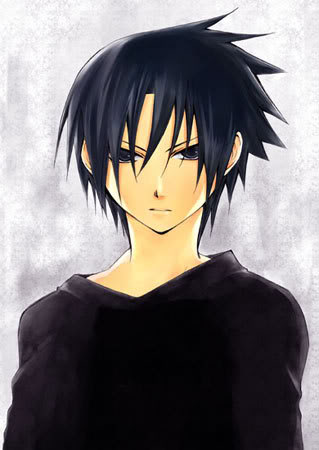 Kaze prefers to wear a single black leather hooded coat. It is plainly adorned with a silver zipper and seemingly pointless silver beaded pull strings for the hood that form a semi-circle in the middle. He wears hakama-esque black pants and either knee high silver trimmed sneakers and black leather gloves that were barely visble inside his bell-shaped sleeves. He has a forehead proctector, which is tied on his forehead, having a slash across the Konoha village symbol, giving proof he longer has ties with Konohagakure. His hair and eyes are black, and he has a pale complexion. Despite being one of the Kurotsuki's founding members, Kaze physically appears to be among the younger members, and is certainly one of the smallest in stature (save for Elendril). He also has a few shorts bangs that reach a inch or two pass his eyebrows. The back of Kaze's hair is quite a bit shorter than the front.
•
Height:
5'6
•
Weight:
120 lbs.
Extra Features:
N/A
Bloodline Information
Kekkei Genkai:
Sharingan
Clan Symbol: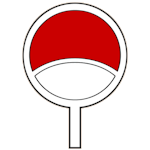 •
Clan History:
The Uchiha clan were one of the founding noble families of Leaf village. The clan itself is said to be descended from the Hyuuga clan who possess the bloodline of the Byakugan eye. Because their clan possessed the Sharingan or "Wheel Eye," the Uchiha excelled at being able to read and fend off attackers. This made them prime candidates to help found the Konoha Military Police Corps. The organization itself would go on to incorporate the Uchiha fan symbol into their official logo.
Select few members of the Uchiha clan possess the ability to activate the bloodline Sharingan eye. This doujutsu (eye skill) gives one the ability to read Genjutsu, Taijutsu and Ninjutsu and then defeat it. As such, the clan member can view a technique being performed and see the tricks and movements required to be able to complete it. However the clan member can not copy techniques which are unique to another bloodline. It also gives one the ability to cast jutsu techniques only possible by possessing the eye.
The clan itself is known for their ties to fire. For a clan ninja to be seen as an adult, they must be able to utilize a Katon (Fire Element) jutsu such as Goukakyuu no Jutsu. Thus is the tie between the manipulation of fire and the mind of an Uchiha member.
•
Physical Traits
N/A
•
Ability Overview
Sharingan is the blood inheritance limit of the Uchiha Clan. The Uchiha are said to be descendants of the Hyuuga, with the Byakugan changing into the Sharingan over time. This doujutsu (eye skill) gives one the ability to read Genjutsu, Taijutsu and Ninjutsu and then defeat it. As such, the clan member can view a technique being performed and almost instantly memorize the movements required to be able to complete it, including the needed chakra moldings and seals used. However the clan member cannot copy techniques that are unique to another bloodline and the clan member must have a body capable of meeting the chakra and physical requirements to do the jutsu. This rarely stops the clan member though, as such stressful situations often push their limits farther and allow them to harness their full potential.
The Uchiha clan member is not granted the Sharingan at birth; it is only activated later in life, typically during a time of emotional stress in the heat of battle. The Sharingan itself can be transferred to another non-Uchiha by a medical ninja, such as happened with Leaf ninja Uchiha Obito to his teammate Hatake Kakashi. Because his body was not born to carry the Sharingan, the eye is always activated and it burns Kakashi's chakra when used. To lessen the impact of the Sharingan on Kakashi's body, he normally keeps the eye hidden and out of use. Also of note, is the fact Kakashi, a non-Uchiha, was able to advance the Sharingan from two tomoe to three tomoe after gaining the eye.
The Sharingan itself contains three tomoe (comma). A higher mastery of the Sharingan can be seen in the creation of a new tomoe in the eye, with three tomoe being the typical highest form of the eye. The rare Mangekyou form is a unique evolution of the Sharingan beyond the three tomoe form, please see its entry for more information. An eye possessing two tomoe can allow the Uchiha clan member to track the movement of an opponent and do some minor copying of an opponents attack. For avoiding incoming attacks, the Uchiha's speed and agility will greatly control whether they can move to avoid it. However, three tomoe will greatly help in this area.
Two tomoe will also allow the ninja to pierce Genjutsu and see the surrounding reality for what it really is. It can also allow the member to pierce another's body and see their chakra. While the eye is not refined enough to see the tenketsu and chakra circulatory system like the Byakugan, it can view the movement and flow of chakra. This can help them tell if a person is trapped in a Genjutsu, or if an attacker is a real threat or merely a bunshin.
An eye containing three tomoe will allow the ninja to see the image of an attacker's next move from the slightest muscle tension in their body. This prevents wasteful movement and allows the Uchiha clan member to conserve much needed chakra in battle. It allows them to synchronize their movement to strike at an area moments before their opponent is even in that spot, essentially allowing them to strike out and hit their opponent before they're even there.
Three tomoe also grants the Uchiha the ability to do Genjutsu and hypnosis after locking eyes with an enemy. This can be used to cause their opponent to do an attack of the Uchiha's choosing. This hypnosis can also be used as a Genjutsu counter, which is the ability to turn a Genjutsu spell back upon the original caster without the requirement of forming any handseals.
Mangekyou Sharingan - Kaleidoscope Copying Wheel Eye:
Sharingan is the blood inheritance limit of the Uchiha Clan. The Mangekyou Sharingan is a legendary doujutsu ability which has only emerged in a few clan members in its history. There is still mystery surrounding the eye and the Uchiha clan itself. Each user develops their own unique looking Mangekyou. The requirements for gaining the Mangekyou are very controversial in nature. After Uchiha Itachi murdered his best friend Shisui he gained Mangekyou. He told his younger brother Sasuke that to gain the Mangekyou, he too would have to kill his closest friend. Itachi told Sasuke that a scroll in their clan shrine revealed the true original purpose of the clan doujutsu. This scroll and Itachi himself revealed that the former leader of their clan, Uchiha Madara and his younger brother Izuna were the first to obtain Mangekyou. Madara himself did this by killing his friend, it's assumed Izuna also killed a close comrade.
Usage of the Mangekyou techniques drains quite a bit of a user's chakra, more so than any other normal technique. Also as a result of Mangekyou usage, the bearer will slowly lose their vision. Madara lost his vision before his brother and sought to regain his power. To do so he removed Izuna's eyes and made them his own. With these new eyes, his Mangekyou took on a combined appearance of his original Mangekyou and Izuna's. These "Eternal" Mangekyou eyes returned his vision and gave him unbelievable strength. With this strength it was said Madara used Sharingan's normal ability to supress the Kyuubi and tame it.
Rank and Skill Information
Village:
Konohagakure
•
Rank:
Missing-Nin
•
Letter Rank
A
•
Group affiliation
N/A
•
Specialties:
-
Main:
Ninjutsu
-
Subs:
Genjutsu, Kenjutsu
•
Advanced/Secondary Skills:
Ninjutsu Mastery:
Like all the other Uchiha, Kaze utilizes the Katon Element, which he has a mastery in. For instance, Kaiton jutsu such as Fire Release: Great Dragon Fire Technique, only drains about 10% of his chakra reserves. He also has a mastery over the Fuuton Element. Since he has been using both elements for quite a long time, he is about to perform powerful combos with great ease.
Genjutsu Mastery:
Like many other Uchiha, Kaze is also an adapt user of Genjutsu. He uses many types of illusions to trick and kill his opponents. Kaze has a mastery over Genjutsu, allowing him to cancel out many types of Genjutsu techniques with little difficulty.
Elemental & Jutsu Information
Elemental Affinity
•
Primary Element
Katon
•
Secondary Element
Fuuton