Basic Info
Name:
Nara, Naraku Thaelix
[Adopted and raised by the Shikyo Clan.]
•
Nickname/Alias:
The Fallen, Sin Eater, The Wraith
Age:
23
Gender:
Male
Important Family Members:Personality:
"What is a man, if not the man. Who is the man, if not the man. Man is not one, but many, and as many are one. The spirit of the man does not hold true to the nature of the man, he cannot be defined by a generalization, but is defined by his action under situation."
The childhood of every individual often decides the path of that individual. This holds true to nearly all in the human race. Modified by life experiences as time goes by, the boy becomes what he is to be, and the man molded, shattered, and reformed. To truly understand what makes a man who he is, you must understand what he does and why he does it. Thaelix is well mannered, as he was raised well mannered. He holds the door for man and woman alike, accepting the last ticket on the bus, the last ticket in the building, and expresses willingness to stand in the rain so another may have shelter. He stands tall always, holding himself high, and those around him just as high. Even the corrupt of the world are subject to his well mannered nature.
Thaelix is a quiet individual, preferring not to speak unless entirely necessary or otherwise warranted depending on the situation. At times he has much to say, and others nothing at all. Maintaining a well structured existence is key to living as long as he. He keeps to himself, and is rarely found enjoying concerts or otherwise associating with large masses of people. He may observe the crowds if he finds himself looking for a particular individual or otherwise performing a task, due to this, he is not at all socially wounded or impaired, just enjoys peace. This is derived from his solitary, peaceful living when he was a child, and has been carried with him even through his years of forgiving executions and sin.
Fortitude in character and perseverance in task, he is strong willed and not likely to back down if intent on completing a task. Regardless of what the task is, his efforts are impeccable and motivation nearly unmeasured. When he was young, his father showed him the meaning of excellence in effort. Through understanding of concept and growth of wisdom, Thaelix does not perform a task half-minded, rather, he puts full thought and pride in everything he does. As a consumer of sin, provider of purity, he does not have the luxury of waiting to act, or settling for second place. To maintain honor and discipline, one must first master their desire to falter.
Courage is the making of a dead man, though well thought planning and establishment of practiced improvisation are the makings of an honorable man. The harder, more intricate situations that carry higher penalty if failed go to those with nothing to lose, and the strength to carry through, with broken leg or missing arm. Thaelix generally takes on to situations of possible lethal outcome first, so others are not caught in the cross fire, or initial destruction. He is labeled courageous for this, and is consistent in forward efforts, regardless of what they are. Taking his honor and courage to the highest levels, to obtain a position amongst man that he cannot amongst the gods. He is cursed to bare the sins of man, so one day he may strike at the hearts of the gods. Assisting man in avoiding the highest of Holy Treasons, he takes the courage required by man to slay, and carries out the deeds himself, provided only his soul is tainted.
Natural absorption of information makes Thaelix seem like he sees the past and the future. Taking in the smallest details and recognizing patterns in things, Thaelix's photographic memory causes him to literally know it all. He his overly observant, and develops strategies against people or objects that have never made any implication, or cannot imply hostility or possible cornering, such as the weak points in a wall, or protruding objects from the ground, marks on rocks, and even misplaced threads on cloth. His mind consuming the world, and developing ways to kill everything and everyone. This may cause him to note flaws in people, but he is often able to control himself.
Prowess of mind in the combat. When in situations that require force or otherwise a bloodied solution, Thaelix remains clear of mind and precise in action. He does not waver in his steps, and analyzes every aspect or detail as it comes, predicting the next move simply by knowing the first. To ever action there is a set list of reactions, nothing more than a list, and through lifetimes of experience, he has harnessed the powers of a true tactician.
=Anger
Thaelix is not easily angered, but as everyone and everything, there are buttons to press. His anger starts as all anger starts, impatience and irritation, not visibly shown and not likely sensed. If allowed to grow, his anger flickers in his eyes, and the scent of destruction consumes him. When angry, Thaelix grows a lust for blood and desire to slaughter those who caused his rage. Unlikely to stop, as it is in his nature to see the tasks through, anger consumes him and very few things, other than time, can calm him.
=Despair
When sadness consumes him, and grows from depression to despair, Thaelix sits in a solitary area. He lets his mind wander and his heart ache until his eyes fill and droplets form. His sadness is easily released through his tears, and suppressed afterwards. It is difficult for him, as it is for most men, to share his emotions. Finding it a weakness in all conditions, he would much rather let it consume him until he is forced to release it, than allow another to become empathetic to his state.
=Desire
Through age, Thaelix has encountered many items, many people, and many places. Desire does not often creep up his spine, but when it does, he easily controls it. His code of honor shifts, as does his cause, like the sands and dunes of a desert. Stealing, corruption, lust, these things do not control him as they do man kind. His goal is to free the souls of man, not bind them with the loss of their loved ones, or vengeance from misplacement of material objects.
=Empathy
Empathy is something commonly seen in Thaelix. He is helpful to those who cannot help themselves, and shows great willingness to produce good in what is left in the hearts of man. The chain effect of deeds unnoticed exists, and striking free that which binds, allowing this good to flow, is an ultimate sign of his deeds having been worth his sacrifice. To know that in deepest depths of the hearts and minds of everyone there is at least something good, is a driving force for Thaelix.
=Fear
Fear is the embodiment of weakness, a tragedy in existence. To know fear is to know death, to receive it and to take it in as your own. Sleeping with fear, living with fear, these are things that Thaelix denies entirely. In the face of eternal damnation, he continues his quest of purifying others. Fear is something that does not move in his mind, that does not exist in his soul. One with nothing to lose cannot fear losing, nor can he fear winning, nor draw. Fear does not exist, so long as the heart beats and the mind grows.
=Remorse
Nearly two thousand years of consuming and killing. Destroying darkness by destroying its' hosts. Nothing can cure the image of a thousand years of a thousand deaths, and thousand screams. Even though the soul was saved, the body still felt pain, and with each breath of pain, a needle to his heart. The biggest object of regret for Thaelix is that he requires the death of, or the already dead to save the soul. He does not however express his remorse, but gathers it in his mind and does his part in ensuring an honorable death, while asking for forgiveness from the host.
=Happiness
Happiness is an unobtainable object, something to strive for when all else fails. To be happy is to be dead and forgiven. Thaelix ignores the idea of happiness, and instead surrounds himself with content. To be content is better than being happy, because the loss of an ultimatum, to lose a goal, is to lose hope. Rather than gather false hope, only to be shot down, Thaelix stays content with everything.
=Confusion
It is not often you can confuse one who has lived as many lifetimes as Thaelix. When confused, he simply steps back from the situation and takes it by angles and slow efforts. No confusion is eternal. Being extremely good at recognizing patterns and following up on trails or hints, he naturally overcomes obstacles.
=The Equilibrium
Everything must be kept in order. He wields the power of Fate in his hands, and it must be used to preserve the existence of life and death. Chaos, Order. These two factions press against each other, an ever ending battle. The ranks of Matsuro are thin, but persevere through the darkest times.
Virtue:
Forgiveness
Forgiveness is typically defined as the process of concluding resentment, indignation or anger as a result of a perceived offense, difference or mistake, and/or ceasing to demand punishment or restitution. The Oxford English Dictionary defines forgiveness as 'to grant free pardon and to give up all claim on account of an offense or debt'. The concept and benefits of forgiveness have been explored in religious thought, the social sciences and medicine. Forgiveness may be considered simply in terms of the person who forgives including forgiving themselves, in terms of the person forgiven and/or in terms of the relationship between the forgiver and the person forgiven. In some contexts, forgiveness may be granted without any expectation of restorative justice, and without any response on the part of the offender (for example, one may forgive a person who is incommunicado or dead). In practical terms, it may be necessary for the offender to offer some form of acknowledgment, apology, and/or restitution, or even just ask for forgiveness, in order for the wronged person to believe himself able to forgive.
Most world religions include teachings on the nature of forgiveness, and many of these teachings provide an underlying basis for many varying modern day traditions and practices of forgiveness. Some religious doctrines or philosophies place greater emphasis on the need for humans to find some sort of divine forgiveness for their own shortcomings, others place greater emphasis on the need for humans to practice forgiveness of one another, yet others make little or no distinction between human and/or divine forgiveness.
To Thealix, forgiveness is the act of allowing spirits to rest after having taken their physical form out of worlds. Though in life, you may exact vengeance and flawless hatred toward a being, everyone deserves an afterlife that doesn't involve a corrupt spirit. He tempers forgiveness with vengeance and valor. No pen is mightier than the will of a man out to slay the Gods.
"Let the souls of my victims, and of my victim's victims rest, for in the eyes of any god to any man to any soldier, forgiveness is the least they deserve. I am the Fallen, Gods. Let your messengers be weary, I come for you. Though their hands may be immortal, they can still be removed from their body. Fear me, Lord's of creation, for my once curse becomes your burden."
Animal Spirit/s/:
Every man has more than one side. Like a shifting shape, their spirit twists and turns. As the gods, one should seek guidance from all the spirits, and become what fits them when their spirit advances and takes shape.
Primary Spirits: The Hawk and the Owl
The Hawk
Communicate with the divine, discern powers in others, photographic memory
Hawks are the messengers of the Spirits. Adept with language, you might be a writer or a teacher. Your ability to assess situations impartially means that people often seek your guidance before making decisions. A brilliant visionary, you sometimes forget the mundane details of life like eating, sleeping, or paying bills. The hawk is also noted for its' freedom of the world, a free spirit. A wanderer of realms, an absorber of knowledge, the hawk sees the hidden within the hidden, and understands the worries or wants of all. It is also about visionary power and guardianship, the hawk is very protective of the young in its nest. It teaches us about providing for family and self. Hawk teaches us to be observant and to pay attention to what we may overlook. This could mean a talent we don't use, a blessing for which we haven't expressed gratitude, or a message from Spirit. The hawk has keen eyesight, it is about opening our eyes and seeing that which is there to guide us.
The Owl
Human lie-detectors
Owls are keen, perceptive and skeptical. You're adept at getting to the truth, making you an ideal investigator or attorney. Your insights into the less honorable side of human nature can make you a bit cynical, but your numerous friends appreciate the dark sense of humor it brings. Relentless in the pursuit of truth and the real, the Owl is known for a strong will and an even stronger mind. The Owl brings us wisdom, teaches us about the mystery of magic, vision in the night. Owl, the night hunter, has the ability to see what others may miss. The gift of this medicine is to be undeceived by external appearances and to discover the truth beneath them.
Secondary Spirits: The Wolf and the Bear
The Wolf
Stealth, hunting ability, enhanced senses of smell and hearing, as well as strength and stamina
"Family comes first" could be a Wolf's motto. You form deep connections with close friends and family members, and they know you'd do anything to protect them. You're loyal, devoted, and passionate. Your worst fear is being alone, but be careful not to drown your loved ones in too much emotion. The Wolf is about learning wisdom. Though the moon rises every night Wolf always finds something new to learn from it. We, too, in exploring the hidden paths of consciousness, may discover new truths to share with the rest of our clan, the human race.
The Bear
Fighting ability—strength and speed—along with powers of strategic thinking
You consider yourself above. You're happiest when in charge. You lead with courage, integrity, and compassion. People gravitate to your confidence and charisma, and they feel safe in your care. But be careful not to believe your own hype—stubborn pride is every Bear's downfall. The Bear teaches us about introspection. Bear medicine teaches us to go within, in order to digest our experiences and to discover that we contain within ourselves the answers to all of our questions. We are our own best teacher. Then bring what we find within to the surface and share it with others.
General Appearance
Basic looks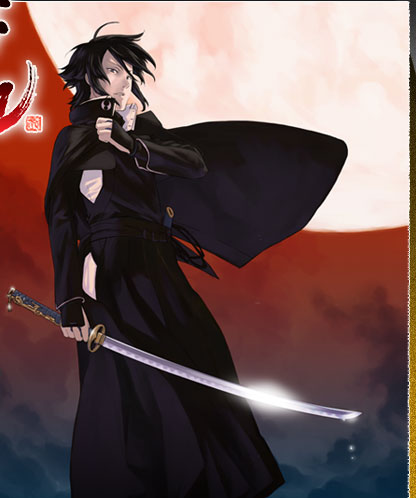 ".. Fear not the blade of the Righteous, it is your salvation.."
Thaelix is tall, standing at 6'3" with broad shoulders. He has moderately long black hair which covers the remaining part of the Hallow mask, at the top right of his scalp. The mask is literally pierced by his hair, making the visibility on the mask less than 1%, even when looking. His hair is very well taken care of, maintaining a strength and smoothness. Letting his hair be free to wander as it pleases, it is often thought to have a mind of its' own. He has a kind face, providing a better trusted appearance and more appealing features. His jawline works perfectly with his cheek bones and eyes, creating an extremely good looking figure. His ears are normal size, and are generally hidden behind his hair. On his right ear hidden underneath the over-lap is his hallow hole. The hole is very small, and if seen would seem like a large piercing. His nose is normal, and the only abnormal facial marking he has is a barely visible scar underneath his right eye, approximately 5/8ths of an inch long, and 2/5ths of an inch below his eye. His eyes are a light brown, interchanging between a dark green, or brown-hazel. He has a naturally tan skin pigmentation. Thaelix's weighs 198lbs, and is well structured. He is moderately muscular, and naturally fit. Through swordsmanship and combat, he maintains an excellent center of balance, it is very unlikely to force him off balance due to this. His hands are scarred and worn from many years of combat and work, their rough texture apparent when felt. He has a 5" scar starting at his upper right shoulder just below the collar bone that curves down his chest. He has no scars down the rest of his body, however the bottoms of his feet are very worn as well. Having traveled many years with and without foot protection, the bottoms of his feet are strong and well endowed with natural protection. He has no abnormalities in his feet, with that in mind.
•
Height:
6'3" [6 Foot, 3 Inches]
•
Weight:
198lbs. [198 Pounds]
preferred wardrobe:
General attire consists of a black male kimono crafted of strong, tight woven silk and a black over-cloak as seen in the picture. He wears a white sleeved undershirt which is made of silk and cotton. He wears black plants underneath which host a variety of pockets for regular use. Over his kimono he has a strong black cloth belt, and his sword sheath. The sheath is held on by a 3 belt system, one that wraps around the waist, one coming over the left shoulder, and another over the right. This ensures the sheath is held in place, and if one of the straps are cut, stays on. The sheath itself is made of a strong leather bound and steel reinforced bamboo able to withstand heavy blows from other weapons. He wears black gloves on his hands that are easy to move in, however, are made of a strong leathery material, preventing many cuts during sword or other battles. With enough precision, one would easily beable to catch an arrow in these gloves. Aswell as coushined black shoes, switching between pairs for different situations, however, every pair is custom made and designed for minimal sound. If he steps on something with these shoes, as long as it is completely under his shoe it will keep the sound from traveling farther then ten feet. The shoes have a side compartment that holds small sized blades easily concealed. Everything he wears has a tactical and practical use.
Extra Features:
Combat/Under-Clothing/Other [Black/Blue/Gray, despite it stating blue]
He wears layered clothing, though often everything on him has some logical reasons for existence. He gets his clothing custom, despite his passive nature, he is not naive. Keeping clothing to more use than just wear and fashion, he uses it for defence or offence should it be neccesary. His top layer of clothing is simple. A blue male kimono made of very strong silk material with a tin interlacing. The material is waterproof and seems to withstand against light piercing. The Kimono has a special hood with a face mask that allows Thaelix to hide his face, which is what he uses on missions, in combat, or whenever neccesary. The mask holds no true appearance, seeming to be hold the features of a wraith. Wraiths, in legend, don't truly have form, and a creatures of hallow appearance and darkness. This adds for an intimidating feature as well. The Kimono is held up under itself with special clips that attach and detach simply by moving from the inside. Outside action on the clips however does not remove the clothing. A simple shift of shoulders in the proper direction can cause the Kimono to drop. Two black straps come across his shoulders which run over his Kimono from fron to back. There are easily undone buttons underneath the straps allowing him to easily remove the Kimono and keep the straps on, which are mentioned previously. However, the straps are part of his under support. Made of strong leather reinforced with a close-knit chain, the straps can be used to halt blades coming at moderate speed to the shoulder, and adjust for to be deattached. The straps act as a secondary support for his sheath and weaponry belt as well, though not neccesary, should the primary support be cut, this will hold them up.
He wears a chain belt around the waist of the Kimono which is able to be used as a rope or tiedown, its' extremely durable structure can hold up to 300 lbs. He wears a black shirt underneath his Kimono made of a strong silk material, which accompanies strengthened forearm bracers similiar in design to the shoulder straps. These forearm bracers are a multi-layered structure consisting of a black exterior leather followed by a close-knit chainmail, a metal plate structure, and an underlying later of silk cloth for comfort. These are designed to allow full movement of the wrist, elbow, and arm, effectively causing zero obstruction. The are light weight despite their metallic features and are effective against slashing of weapons, and deflecting of projectiles. He wears an under belt that contains his miscellaneous weapons and equipment, complete with easy access pouches and spring-loaded kunai/shuriken containers for quick arming. The under belt being a lower layer of clothing is not impeded by other clothing, however is not in eye sight, thus making him seem ill prepared and boosting the motivation of someone whom feels combat would be in their favor. This false hope adds to his ability of surprise strike. He wears black pants made of a strong cloth material that have a large amount of pockets, tho not visible. Underneath his pants he wears a specially crafter thin chain covering that protects against slashing and moving in rough terrain. He is over-armed constantly, so the many pockets helps to keep things organized.
His boots are black with steel reinforcement on the tops. The bottoms of the shoes are custom designed to allow no sound from underneath them to escape. The intricate patern was formed to stop any sound from traveling more than 5 feet in any direction. The shoes have silk laces and leather padding inside to add comfort in movement. The boots allow for shifting of the ankles, feet, and lower legs effeciently, so as not to restrict reaction capabilities. He has two sheaths on his back and one on his side. The two on his back contain swords, the other is an empty sheath. His sheaths are made of a reinforced metal and leather allowing them to block blades as a regular weapon would. The custom material is light weight and extremely durable. The sheaths are held up by straps that go underneath his upper layers of clothing, so when his kimono drops the straps are visible. These straps are made of a leather and chain reinforced material that can withstand moderate slashing. There are 3 straps that go across seperately so when two are cut, the sheath remains on efficiently with 1.
Bloodline Information
Non-KKG Related
In ancient times, Crimson was the color of the gods. The color of blood, the utilization of blood in combat and before combat. Practices of of sacrificing one's self, or the property of one's self including children and siblings existed to please these supposedly immortal and all powerful beings. All around the world for generations, centuries, death has been the calling card of the Gods. Whether Greek, Roman, Christian, Pagan, or otherwise. Nothing has been returned from whence it came; The god's ignore the calls of man and spirit alike.Thaelix's blood is said to remove the immortality of every god of every religion, or anyone of immortal descending, if combined with their blood or if it enters their system. The blood's effect on mortals is that, if someone dies with the blood of Thaelix, or the blood is entered in to the system of one who has fallen within six minutes of being deceased, the Sins of their soul is absorbed by Thaelix, and he then carries the sins of that person, purifying their soul so it may ascend through the gates of the gods.
"Let the blood of my ancestors flow through me. Let the blood of any man, of any race, with any spirit flow through me. For I exact my vengeance upon them without mercy. Those who would have man bathe in blood and beg for forgiveness will now see the error of their ways. There will be no light, A Black Moon is my calling card. My blood will flow through the gods and tear them of their immortality. Sit upon their mortal thrones until I rip the breath from their chest, and bleed them dry in the name of their brothers and sisters. As you have done, so you shall receive. Only then will you be forgiven for your deeds, only then will the immortals amongst men cease their hatred, and let you rest in peace."
Kekkei Genkai:
Byakugan [Main Branch]
•
Description:
Byakugan's blind spot
The first ability of the Byakugan gives the user a near 360º field of vision, except for one blind spot at the back of the neck above the third thoracic vertebra.
The second ability is being able to see through solid objects, and can use a degree of telescopic sight. The distance and the degree of telescopic sight varies from person to person, and can be improved. In Part I, Neji Hyūga was able to see an area of 50 meters, but later he increases his visual range to at least 800 meters, while Hinata Hyūga's range in Part II stretches at least as far as 10 km. However, the Byakugan cannot see through certain barriers, such as the Four Black Fog Battle Formation used by the Sound Four.
Chakra Pathway System
The third and one of the greatest uses of the Byakugan is the ability to see chakra, chakra flow as well as the chakra circulation system inside another's body. It is from this particular ability that they are able to employ their ultimate attack style: Gentle Fist. Unlike the Strong Fist, which is focused on external injuries, the Gentle Fist style focuses on internal injuries. Each strike, when placed correctly, strikes along the chakra pathway system, which is the network of vessels that carry chakra. This network is closely intertwined with the functioning of the body's organs, and so, when the keirakukei take damage, the organs suffer as well. There is no defense against the Gentle Fist, since one cannot train one's internal organs to become stronger. The only possible defense is to stop the Gentle Fist's hits from connecting.
Particularly skilled users of the Byakugan can take the Gentle Fist style one step further. Along the keirakurei are 361 pinprick-sized nodes called tenketsu, or chakra points. When struck, the Byakugan user can choose to either seal, or forcibly open these tenketsu, thus giving the user complete control over their opponent's chakra system. So, with precision, all those points along the victim's body can be sealed, stopping the chakra flow to those areas. Able to strike without force, and yet do more damage to a ninja than some of the most powerful ninjutsu, the Gentle Fist is the greatest taijutsu style known in all of Konohagakure.
Kiremezaseitekiauto'konoiru-jon: The eye of Seeing. It is said that the eyes are the gateway to the soul, and that by unlocking the soul one gains absolute control over their chakra. Thaelix his traveled far in his body, through wisdom and meditation he has become one with himself. In doing so, he has opened his eyes, the gateway to his soul. He has seen his past lifes, and obtained the ability to release genjutsu with his eyes. Similar to many Doujutsu, but obtained through a greatly different way.
•
Physical Traits
The Byakugan (白眼; Viz "Evil Eye" or "All Seeing White Eye"; Literally meaning "White Eye") is a dōjutsu kekkei genkai of the Hyūga clan. Those that inherit the blood of this clan have almost featureless white eyes (Neji's and Hinata's eyes seem to have tints of blue-gray and lavender, respectively). When the Byakugan is activated, the user's pupils become more distinct, and the veins near their temples bulge. It is assumed that all members of the Hyūga clan possess the Byakugan. It is one of the three great dōjutsu, along with the Sharingan and the Rinnegan.
The Byakugan's abilities have left it highly coveted by the other villages, as evidenced by Kumogakure's attempt to steal it during the Hyūga Affair. Ao of Kirigakure was able to obtain a Byakugan from an opponent he defeated, and goes to great lengths to protect it; at the same time, Danzō Shimura goes to equal lengths to retrieve or destroy it. Unlike transplanted Sharingan, Ao's Byakugan can be activated and deactivated at will.
•
Ability Overview
Byakugan/Hyuuga Clan
3KM Eye
Rank and Skill Information
Village:
-
•
Rank:
Leader - Matsuro Organization
•
Letter Rank
S
•
Group affiliation
Matsuro
•
Specialties:
-
Main:
Ninjutsu
-
Sub:
Taijutsu
-
Combination
-
•
Advanced/Secondary Skills:
Jounin - Jack of All Trades [Specialties- C ]
As defined, the Jounin, unless Special Jounin, is trained in most arts to a point, even if they choose to take others farther. No longer a Jounin, Thaelix still practices all basic forms of the arts.
The Wraith Complex:
This is a special 'complex' given name to Thaelix's odd features and the way he carries himself, amongst other things. Showing nearly no emotion on the face during interrigation, interigating, combat, etc. The lack of facial expressions makes him seem cold and emotionless. While moving, it is very hard to predict what movements he will make, possibly confusing even some movement following Doujutsu. The reason for this is his spontaneous actions. He thinks ahead about his movements before performing them, moving at the last moment which gives the opponet less time to react and predict, but in certain situations is not used because it may also effect his ability to react. He also intentionally uses muscles that would make him seem as if he would be going a different path or direction. Though an extremely skilled opponet with, for example, the Sharingan could figure only a certain amount of moves plausible, it still broadens the zone he might be thought to move in.
Elemental & Jutsu Information
Elemental Affinity
•
Primary Element
S - Earth
•
Secondary Element
S - Wind
•
Third Element
S - Lightning
•
Advanced Element
-
•
Combination
-